Dead Jesus şarkıcısının popüler şarkılarından Hymns Of Deception şarkısının sözlerini sizlerle paylaşıyoruz. Dead Jesus - Hymns Of Deception Şarkı Sözleri sitemize 26 Şubat 2020 Çarşamba tarihinde admin tarafından eklenmiştir.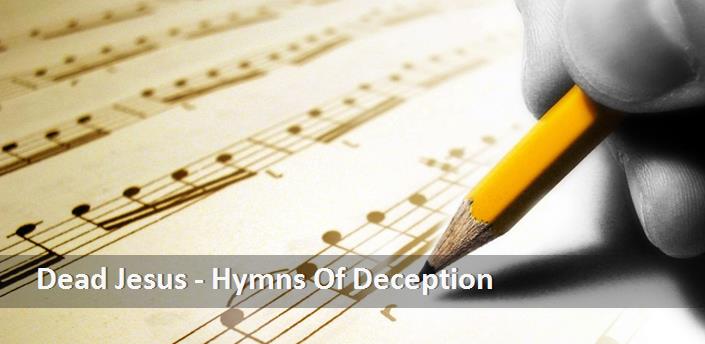 Torn between vows of the laws they uphold
And the distant cries of the children they've ruined.
Keep telling yourself it's alright, you'll believe.
After all, your god cleanses sins, doesn't he?
Bless me heal me make me feel divine.
I feel the wrath of my sins
With every dried bread I eat, what a lie.
Family divine falls into line.
Dressed in their sunday bliss.
Play the part, show the world,
Only what you want them to see.
Tie me down to that fucking cross.
Crucify our sins with flesh, unholy blood.
Pour from the goblet like a cultic ceremony.
Let it wash our sins away
The earth our hell it's all I live for.
This existence of molecules is all there is.
The evolution of death brings me closer
To the ground with a bang of truth.
Biggest propaganda machine spreading over
The world like a fucking disease.
Forced upon the simplest of men.
Forget the thousands of years that past.
Clouds darken, angels harken,
Baby jesus cries his eyes out.
We must stop and fight together
To rid ourselves of these false prophets.
Take your judgements and your beliefs,
And just let us die alone.
Scream.
The power.
Feel no guilt.
Tell them gods lips roll from your tongue.
They'll give out their mind as they give out their hand.
Send in the wolves to look after the lamb.
Bending, pleading cry out in vein.

Heal the sick, over and over again.
The almighty is waiting for us to replenish
Our souls up in heaven.
If that's the case I never want to die.
Twisted and demented feeding the fools hand
Seeding and breeding as you're forced to doubt your soul
And when you're brainwashed all your life and
You're trying to please everyone else, think for yourself.
What about you, do what you want and it will come true.
Fuck this society and its needs
Do what you want and you will be free.
Wake me from this dream as I lie in here by the stream
Children being raped and torn have we not been forewarned?
Lies money being reborn marriages and holy wars
Go hand in hand leave me be on this damn forsaken land.
Hail conception, blessed compulsion, forgotten prophecy.
Turned around by your own convictions
There's no one to blame but me.
Love and kindness.
Faithless souls, so advanced.
Deaf and blindness.
Lay safely to rest.
Where were you god when they counted on thee?
Your children screaming in pain.
Have you forgotten them so easily,
Or do you not even care?
When you want them all to believe,
Then you turn and just walk away.
Can you blame any of them,
When it's all they can take?
Never again.
Lies unraveled only by few.
I refuse to be pawned in your game.
Go fuck someone else, I've heard it before.
And you'll never force me to change.